Webbtjänsten
Kontaktperson:

Mr. Frank Zhan
Hard Alloy Progressive Tooling
| | |
| --- | --- |
| Betalning Typ: | L/C,T/T,D/P |
| Incoterm: | FOB,CFR,CIF,FCA,CPT,CIP |
| Leverans Time: | 140 dagar |
Grundläggande information
Modell nr: D100232
Ansökan: Bil
Material: Hård legering och stålbindad karbid, S355MC
Bearbetningsmetod: Stansning och skärformning
Teknik: Forming Die
Processkombination: Progressiv dö
Tillverkningsteknik: Automatiseringsteknik
Körmotortyp: Permanentmagnet
Mold Cavity Technology: CNC Fräsning
Fräsningshastighet: Hög hastighet
Delningsdetekteringsmetod: Mätning av treaxel NC
End Customer: Ford
Die Size: 3500*1200*75mm
Press Tonnage: 800T
Additional Info
Produktivitet: 20-30 dies per month
Märke: SunnyTool
Transportfordon: Hav
Hemorten: Kina
Certifikat: ISO 9001:2008
Produktbeskrivning
Stamping Progressive Die Tool Forms har många fördelar som:
1. Hög effektivitet och tidsbesparande för progressivt verktyg.
2. Lägre arbetskraftskostnad.
3. Stabil stempling delkvalitet.
Projektledning Diagram
1. PO granskning
2. Verktygsstandardutbildning och illustration
3. Intern design granskning
4. Support för kunddesignrecension
5. Raw Material Purchase
6. Bearbetning av spårning
7. Montering & Spot Control
8. Delkvalitetskontroll
9. Intern slutlig uppköp
10. Fraktarrangemang
11. Home Line Support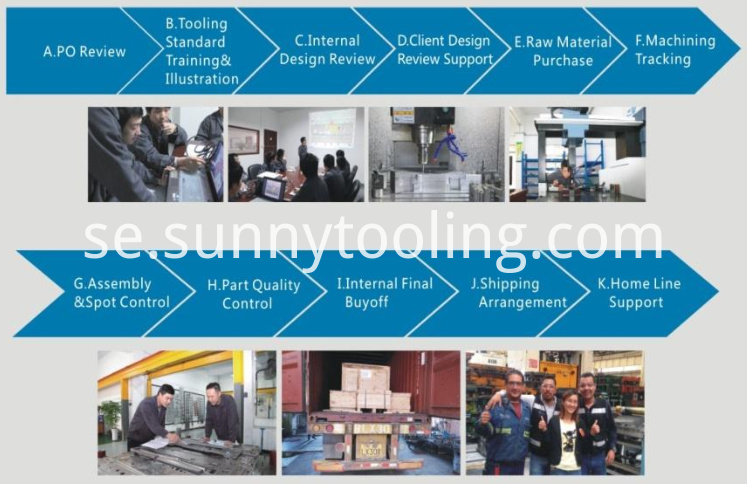 | | |
| --- | --- |
| Brand Name | Sunnytool |
| Model No. | D100232 |
| Application | Car |
| Certificate | ISO 9001:2008 |
| Country of origin | China Mainland |
| End customer | Land-Rover, BMW, SKODA, Ford, Jaguar, Renault, Chrysler and so on |
| Material | Stainless Steel and Aluminum(hard steel or soft steel) |
| Technics | Stamping Die |
| Manufacturing Technology | Automation Technology |
| Cavity | Stamping tool 1 part out or 2 same parts out or 2 symmetric parts out per stroke |
| Size | According to the tool design of the part. (up to 4400 mm) |
| Weight | Ranging from 800 kg to 15000 kg |
| Processing Method | Punching and Shearing Mould |
| Parts Detection Method | Measurement of Three Axis NC, CMM |
| Required Tonnage | Ranging from 125 t to 800 t |
| Package Method | Fumigated Wooden Case |
| Transportation | Stamping tool send by Ocean or Air required by our customers |
Kvalitetskontroll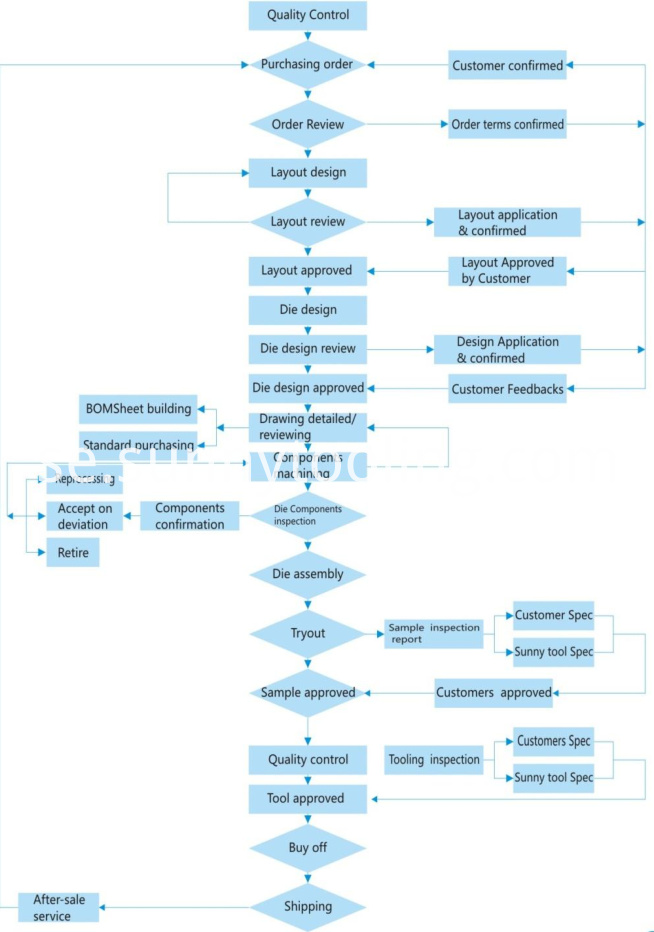 Grundläggande definition
Progressiva dörrar hänvisar till denna typ av dör som innehåller många arbetsstationer. När dynan fungerar kan den avsluta flera operationer samtidigt. Varje gång pressen utövar pressslaget rör sig remsan framåt i samma takt tills det slutar slutdelen och det kommer att producera delar kontinuerligt.
Inhemsk utveckling
Tekniken av progressiva dödar överfördes till Kina från Kina Taiwan i 20-talet 80-talet. Sedan dess har tekniken utvecklats snabbt i Kina och det har tendens och potential att växa bättre och bättre. Genom att använda överlägsen utrustning och högkvalificerade arbetstagare kan vi leverera delar av hög kvalitet och kostnadseffektiva verktyg till våra kunder.
egenskaper
1.Hög effektivitet
Eftersom progressiva dörrar har många arbetsstationer, kan de avsluta många operationer på grund av antalet arbetsstationer och många delar på kort tid. Att använda progressiva matriser för att utföra produktionen kan sålunda spara tid och förbättra effektiviteten självklart.
2.Make komplicerade delar
På grund av många arbetsstationer kunde vi justera stationen som efterfrågad för att möta efterfrågan och producera tillfredsställande delar.
3. lång livslängd
Materialet i progressiva dörrar är vanligtvis legeringen med hög hårdhet, vilket kan garantera kvaliteten och göra det möjligt för munstycket att bära många gånger på de mekaniska pressarna.
4.Safe
Arbetstagare behöver bara trycka på remsan medan man använder progressiva dörrar. Så det kan undvika att orsaka potentiella skador på arbetstagarna.
Företagsintroduktion
Sunny Metal Tooling Co., Ltd grundades i februari 2012 och erhöll ISO 9001: 2008 certifikat 2013. Vårt kärnverksamhet är tillverkning av metallstämplingsdörrar för bilindustrin. Med den nuvarande 6000 kvadratmeter byggnaden, anställde Sunny mer än 120 medarbetare. Våra toppmoderna faciliteter ligger i Dongguan, Kina, som är känt för tillverkning av excellens. Genom att använda överlägsen utrustning och högkvalificerade arbetstagare kan vi leverera högkvalitativa och kostnadseffektiva verktyg till våra kunder.
Företagsvision:
Att växa till en av de medelstora tillverkarna av automatisk stämpling dör i denna bransch med högsta inverkan, avancerad teknik, perfekt förvaltning och hög professionell service.
Människor först i soligt:
Det finns en positiv atmosfär som är byggd av Sunny både på arbets- och bostadsområdet. Anställda betrodes och respekterades här och många chanser att lära sig och spela själv finns här.
Företaget gäller kundernas krav:
Att försöka vårt bästa för att möta kundernas krav och skapa det högsta värdet för dem.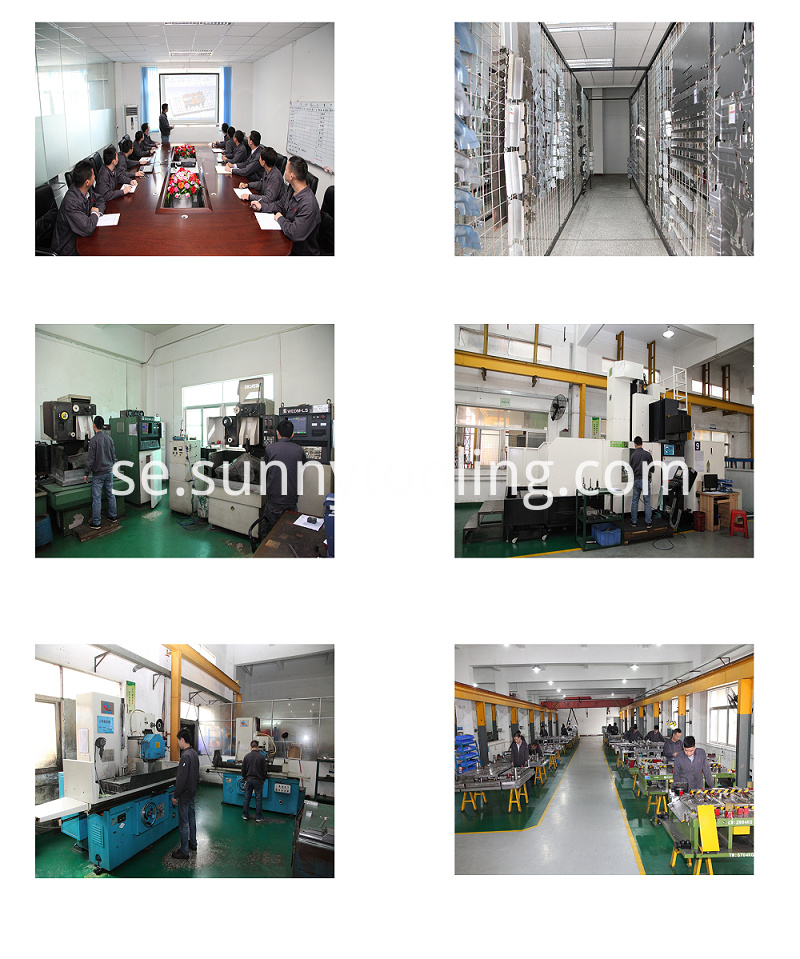 Produktkategorier : Progressiv dö